Ratchet Lever Hoist
Model: LV, Capacity: 500 - 6000kg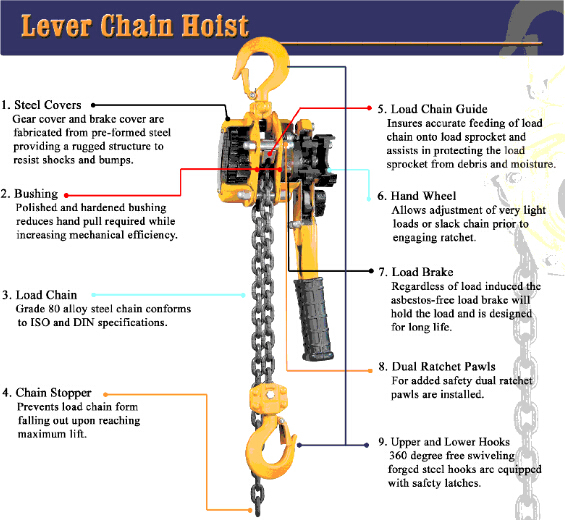 Features
High-strength, cold-formed, stamped steel construction makes it lighter in weight yet impact resistant for longer life.


The enclosed robust stamped steel housing protects all internal components even in the toughest conditions.

Chain guide and gearbox are almost totally enclosed. Even under the toughest conditions the internal gearbox remains protected.

The hardened load sheave with four precision machined pockets ensures accurate movement of the load chain.

Drop forged load and suspension hooks that yield under overload instead of breaking, are made of high tensile steel.

The hooks are fitted with robust safety latches and rotate 360° degree.

Easy free chaining operation.

Technical Parameters
| | | | | | | | |
| --- | --- | --- | --- | --- | --- | --- | --- |
| Item Code | Capacity (Kg) | Model | No. of Chain | Test Load (Ton) | Chain Size (mm) | Pull on hand Chain at WLL (N) | Net Weight at Standard 3m Lift (Kg) |
| 205050 | 500 | LV050 | 1 | 750 | 5x15 | 108 | 6.1 |
| 205075 | 750 | LV075 | 1 | 1125 | 6.3x19 | 147 | 6.9 |
| 205100 | 1000 | LV100 | 1 | 1500 | 6.3x19 | 196 | 7 |
| 205150 | 1500 | LV150 | 1 | 2250 | 7.1x21 | 176 | 9.6 |
| 205200 | 2000 | LV200 | 1 | 3000 | 8x24 | 235 | 10.1 |
| 205300 | 3000 | LV300 | 1 | 4500 | 9x27 | 372 | 15.9 |
| 205600 | 6000 | LV600 | 2 | 9000 | 9x27 | 382 | 25.7 |