Geared Trolley and Push Trolley
Model: TB, Capacity: 500-10000kg
The trolley enables the exact positioning or easy traversing of large loads with either manual or powered hoisting equipment.
Features
Extremely easy work-site installation

Compatible with I beam and H beam rails.

High quality sealed ball bearings.

Light selfweight and compact.

Easily travel over minor rail surface irregularities.

For geared trolley, the standard opertion chain length is 3 meter, other length is available upon request.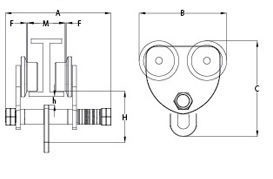 Technical Parameters
| | | | | | | | | | |
| --- | --- | --- | --- | --- | --- | --- | --- | --- | --- |
| | | | | Size Dimension (mm) | Size Dimension (mm) | Size Dimension (mm) | Size Dimension (mm) | Size Dimension (mm) | |
| Item Code | Capacity (Kg) | Model | Beam Flange Width F | A | B | C | H | F | Net Weight (Kg) |
| 211005 | 500 | TB005 | 50-125 | 200 | 174 | 180 | 118 | 2 | 6 |
| 211010 | 1000 | TB010 | 75-125 | 220 | 206 | 222 | 120 | 3 | 8 |
| 211020 | 2000 | TB020 | 100-150 | 260 | 240 | 267 | 132 | 3 | 13 |
| 211030 | 3000 | TB030 | 100-150 | 285 | 279 | 319 | 181 | 3 | 24 |
| 211050 | 5000 | TB050 | 125-175 | 338 | 318 | 384 | 219 | 3 | 44 |