Geared Trolley and Push Trolley
Model: GA, Capacity: 500-10000kg
The trolley enables the exact positioning or easy traversing of large loads with either manual or powered hoisting equipment.
Features
It has excellent rolling features due to machined steel wheels mounted on prelubricated, encapsulated ball bearings.
Adjustable to fit a wide range of beam widths and profiles (e.g. INP, IPE and IPB)
The trolley wheels are designed for a max. beam profile incline of 14% (DIN 1025 - Part 1), excellent rolling features are guaranteed by prelubricated, encapsulated ball bearings.
Trolleys and beam clamps have a min. fracture security of 4:1
They are tested with overload and supplied with a test certificate.
For geared trolley, the standard opertion chain length is 3 meter, other length is available upon request.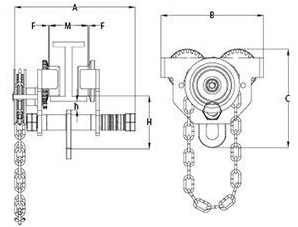 Technical Parameters
| | | | | | | | | | |
| --- | --- | --- | --- | --- | --- | --- | --- | --- | --- |
| | | | | Size Dimension (mm) | Size Dimension (mm) | Size Dimension (mm) | Size Dimension (mm) | Size Dimension (mm) | |
| Item Code | Capacity (Kg) | Model | Beam Flange Width F | A | B | C | H | F | Net Weight (Kg) |
| 208005 | 500 | GA005 | 50-125 | 248 | 195 | 180 | 115 | 2 | 11 |
| 208010 | 1000 | GA010 | 75-125 | 280 | 236 | 211 | 115 | 3 | 14.5 |
| 208020 | 2000 | GA020 | 100-150 | 318 | 273 | 236 | 130 | 3 | 19.5 |
| 208030 | 3000 | GA030 | 100-150 | 340 | 320 | 295 | 164 | 3 | 40 |
| 208050 | 5000 | GA050 | 125-175 | 365 | 366 | 334 | 177 | 3 | 55 |
| 208100 | 10000 | GA100 | 150-175 | 410 | 389 | 460 | 237 | 3 | 98 |