Manual Chain Hoist
Model: MC, Capacity: 500 - 20000kg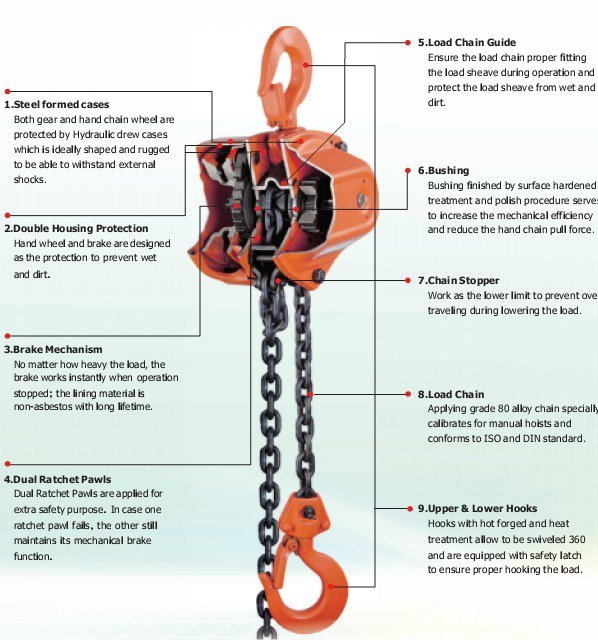 Features
Reinforced double pawl brake system and larger diameter pawl springs to ensure reliable brake.


Light weight, high efficiency and more compact size, these hoists are recommended in lifting application.

The enclosed robust stamped steel housing protects all internal components even in the toughest conditions.

Chain guide and gearbox are totally enclosed. Even under the toughest conditions, the internal gearbox remains protected.

The hardened load sheave with four precision machined pockets ensures accurate movement of the load chain.

Drop forged load and suspension hooks that yield under overload instead of breaking, are made from high tensile steel.

The hooks are fitted with robust safety latches and rotation of 360 degree.
Technical Parameters
| | | | | | | |
| --- | --- | --- | --- | --- | --- | --- |
| Item Code | Capacity(Ton) | Model | No. of Chain | Chain Size (mm) | Pull on Hand Chain at WLL (N) | Net Weight at Standard 3m lift (kg) |
| 203005 | 0.5 | MC005 | 1 | 5x15 | 231 | 7 |
| 203010 | 1 | MC010 | 1 | 6x18 | 309 | 10.5 |
| 203015 | 1.5 | MC015 | 1 | 7.1x21 | 320 | 17 |
| 203020 | 2 | MC020 | 1 | 8x24 | 320 | 18 |
| 203030 | 3 | MC030 | 2 | 7.1x21 | 360 | 22 |
| 203050 | 5 | MC050 | 2 | 9x27 | 414 | 40 |
| 203100 | 10 | MC100 | 4 | 10x30 | 420 | 70 |
| 203200 | 20 | MC200 | 8 | 10x30 | 420x2 | 162 |