Mechanical Steel Jack
Model: MJ, Capacity: 1.5 to 20 ton
Technical Specialities
Double pawl brake system - quick braking, safe and reliable low gearing tolerance - smooth transmissions, free of jerks.

High efficiency and minimum turning force less than 25 kg is required to lift full load of all rated capacity

Sturdy structure, light weight and quick lift performance , high quality material CRS Plate, carburized alloy steel gears.
Operation Guide
Put the steel jack on even places. The place the goods on the Lower Support Stand (4) or the Upper Support Stand (3). Shake the Level (2) clockwise to lift the goods, vice verse, the goods are lowered down.
(1) base
(2) Level
(3) Upper Support Stand
(4) Lower Support Stand
(5) Upper Ratchet Stand
(6) Lower Ratchet Stand
(7) Axle Ring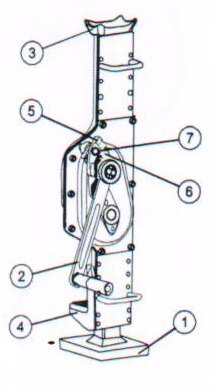 Inspection Prior to Use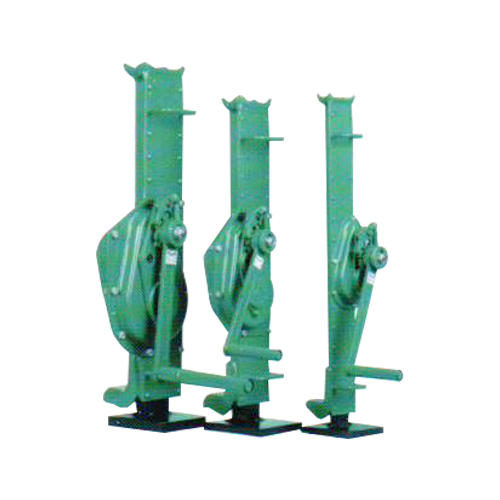 MJ Jack is designed and developed for heavy duty industrial lifting application, strictly in accordance with the latest safety standard DIN 7355
Attention
Overload is forbidden. Do not exceed the rated capacity

Before operation, please check the flexibility of the ratchet pawls (5),(6)

Please be sure the jack is on complete balance when operating. Do not put in on beveled, arc or uneven surface. The jack placed on hard mush hard plain grounds.

Before lifting, please be sure of the support stand (4)(3)supports the goods completely

When several jacks are used at thee of the same time, please be sure of the body under the same lift or down. the whole operation course should be directed.

It's is forbidden putting any parts of the body under the lifter goods.

If working force is abnormal in operation, please stop working immediately to inspect all related transmit components.

Lubricate parts applied regularly

The upper support stand (3) should be on bottom position when the jack is not used.
Technical Parameters
| | | | | | | |
| --- | --- | --- | --- | --- | --- | --- |
| Item Code | Model | Rated Load Ton | Height of Load (mm) | Lifting Height (mm) | Height of Claw in Lowest Position (mm) | Net Weight (Kg) |
| 220015 | MJ015 | 1.5 | 725 | 350 | 70 | 13 |
| 220030 | MJ030 | 3.0 | 725 | 350 | 75 | 20 |
| 220050 | MJ050 | 5.0 | 725 | 300 | 70 | 27 |
| 220100 | MJ100 | 10 | 800 | 300 | 90 | 47 |
| 220160 | MJ160 | 16 | 950 | 400 | 95 | 64 |
| 220200 | MJ200 | 20 | 950 | 400 | 95 | 73 |